PHANTOM I CUSTOM
Quickstart guide - Direct optical for Phantom I
The direct optical mode has been developed to meet the needs of custom installations, enabling to interface Phantom with a control system external to the Devialet ecosystem such as: AV preamplifier, audio matrix, professional audio protocol (Dante), home automation integration.
In direct optical mode, Phantom is an active speaker with low latency (< 5ms) with an adjustable fixed output gain.
Caution: Please note that direct optical mode disables all wireless features of the product, so you will no longer have access to the application and Bluetooth as well as streaming protocols such as AirPlay 2, Spotify Connect, UPnP and Roon.
If you want to configure an old Phantom I model (Phantom Premier)
Make sure that it at least has the 2.11 version of the firmware

Start by connecting Phantom I to Ethernet.
Then turn on Phantom I and wait 30 seconds for it to start (Phantom I will emit a sound when booted)

If the product has already been configured via the Devialet application, it must be reset to factory before going further.

Press and hold the Power button for 7 seconds (Phantom I will make two sounds to confirm the restart). Then proceed to the next step

If the product has not yet been configured, go to the next step.

Log in to the configuration webpage by typing the IP address of the product in the search bar of your browser.

You can use third party software such as "Localsites" or "IP Scanner" to retrieve the IP address of the product.
You can also use your router's control app to find the IP address of the product.

Once on the configuration page, click on "Enable direct optical mode" to launch the Direct optical mode on the product.
You can exit the direct optical mode at any time by returning the product to the factory configuration.

Press and hold the Power button for 7 seconds - the Phantom I will emit two sounds to confirm it is restarting).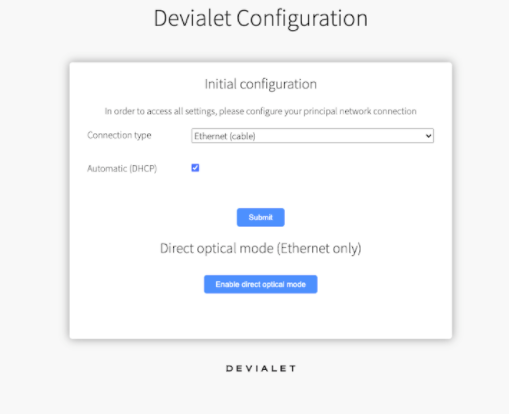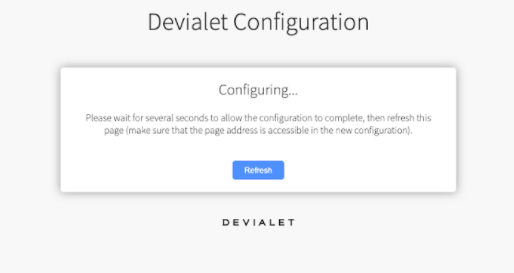 Once the initial configuration is complete you will be able to access the advanced configuration menu.
In the "Device Name" tab you can rename the product.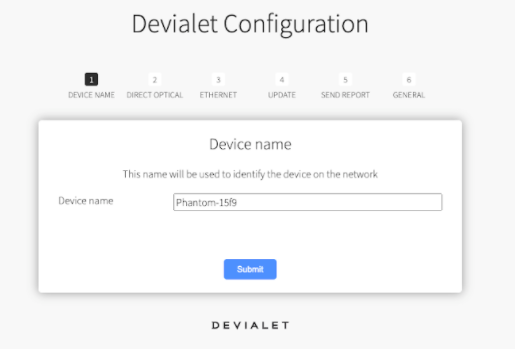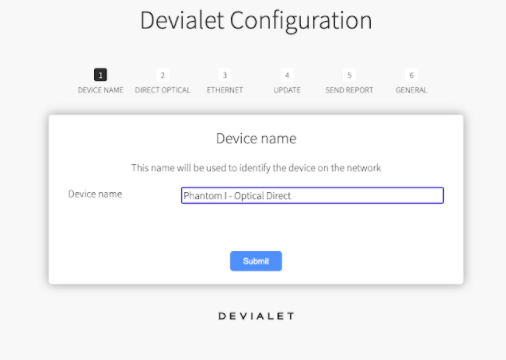 In the "Direct Optical" tab
You can fine-tune the amplification power.
By default, it is 70%, which corresponds to a fixed gain of 0dB.
Below are some reference values:
40% of the volume = -30dB
58% of the volume = -12dB
70% of the volume = 0dB
82% of the volume = +12dB
100% of the volume = +30dB
NB: It is not recommended to change this parameter upwards unless the output level of the source device is too low.
Above 70% (0dB) there is a risk of signal compression.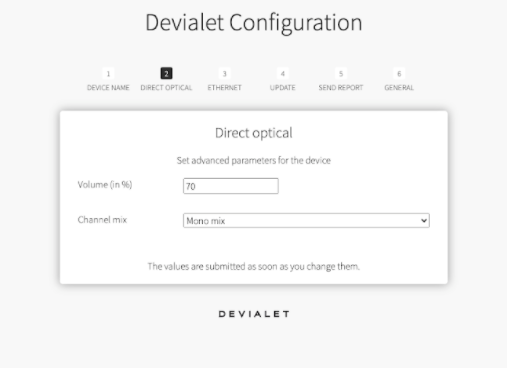 You also have the possibility to determine the channel mix.
Left, Right or Mono.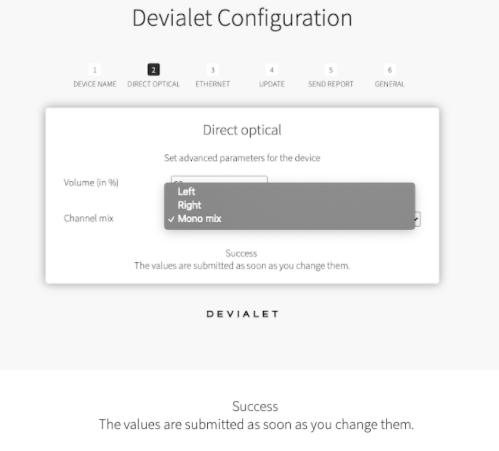 Once you have made the settings, exit the configuration page by closing your web browser. All your parameters and settings are now active on Phantom I.