Dear Devialet Gemini owners,
We strive to always deliver a level of user interaction that is on par with our products' sound quality.
Some of you have reached out for our support to help set up, update or use your product seamlessly. We are taking the time to refine the user experience, so that the next software iteration improves the experience for both existing and new Devialet Gemini adopters.
In the meantime, we have posted articles to help you find a solution should you have any issues. Please do not hesitate to contact our customer service at customercare@devialet.com for more guidance.
Please accept our apologies if you have experienced any frustration so far. Thank you in advance for your continued trust.
Kind regards,
The Devialet team
1. Asynchronous earbuds' battery level
Our true wireless earbuds are based on an asymmetric control model. This is a normal communication structure for earbuds and allows for each earbud to rely on the other dynamically in order to extend battery life. However, this can lead to asynchronous battery levels between earbuds.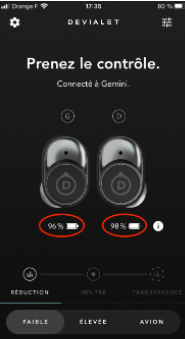 2. Device still connected
Your device might be still connected to Gemini, even though the earbuds are back in their charging case.

If this is occurring, please do the following: when putting your earbuds inside the charging case, please wait 3 seconds before closing the lid to allow Gemini to disconnect from your device.
Additionally, you can disable bluetooth from your source device to ensure the connection is severed.