Introduction to Expert Pro Sweet Room
Please note Devialet will not be able to advise on the room measurements and data analysis
Please kindly use this feature if you are already familiar with room correction.
1. Introducing Sweet Room
On September 30th 2020, a new software release for Expert Pro will be made public, including a new feature called "Sweet Room."
This feature is only available starting with the firmware 13.2.0 | DOS 2.2.6. You can look at the release note here
Sweet Room is a room correction module for Expert using a nine-band parametric equalizer - you will be able to modify the Expert Pro output signal and tailor it.
Before moving forward, you must measure the frequencies that need to be adjusted in your listening room. Sweet Room will apply concrete frequency settings based on the values that you need to modify (e.g., "I know my listening room is absorbing a lot the frequencies at 100Hz and 70Hz. Therefore, I'd like to add some gain to it").
Please note that our customer service won't be able to make measurements in your room for you to determine the corrections that need to be made. However, there's a big selection of software from different companies that can help you with this task.
To update your Expert Pro firmware and DOS version, please follow the instructions available on this article.
A template version of the eq.txt file ready to use is available to download in this article.
2. Deep dive into Sweet Room
Three criteria are to consider for adjusting your Expert Delivery:
Frequencies (Frequency)

Minimum: 0 | Maximum 20000
Value in Hz

Gain (dB_gain)

no minimum nor maximum; however, a realistic value will be contained into -12/+12
Value in dB

Quality (Q_factor) > Please refer to this Wiki article.


the minimum is 0 (can't be a negative value), no maximum. However high Q values have strong impact on phase variations and should be avoided for best sonic performance
Here you can see the file format. The editable fields of the file are marked in red and blue: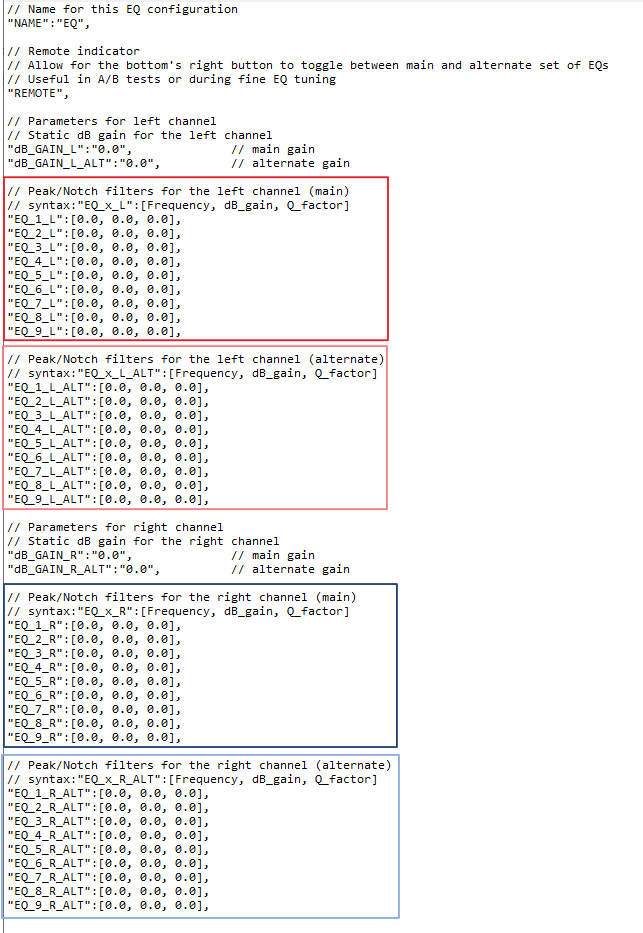 FAQ
I've got my desired setting. How can I apply it to the Expert Pro?
Simply edit the eq.txt file and save it. Then copy and paste it to the root directory of your SD Card with your Expert configuration file.
Can I use this feature with my Expert (non-Pro)?
Sweet Room is only possible for Expert units with our Core Infinity card. Therefore, only Expert Pro can use this feature.
Does this setting apply to all my sources?
Yes, the Sweet Room settings will be applied to all your inputs. If you need to disable this setting for one specific input, please look at the next FAQ to toggle On/Off this setting.
How can I hear the difference when the Sweet Room is applied or not?
Thanks to our engineering team, you can add the word "REMOTE" into the eq.txt file to associate the button on the right of your Remote to toggle the EQ function On/Off.
Is there any risk when putting the file in my Expert or when the amplifier is reading the file?
Don't worry. You will be using a simple text file that can be edited with the notepad app in your PC or MAC to edit the information.
When the Expert is using the file, the amplifier will apply the selected criteria only when the entered values are correct. If there is a single line with a mistake, the amplifier will not use that profile.
Note: the file has to be named eq.txt - if the file name is different, the amplifier won't recognize it.
How can I make Sweet Room work on a Dual-Mono setup? (two amps chained together)
Each Expert Pro in the system should have an eq.txt file.
Two possible options:
The Master file contains the EQ info for L and R channels. The same file has to be copied and pasted on the root directory of the Companion SD Card.
Each amp has its own file with the EQ info for its specific channel (L or R).
Does the value to name each specific profile allow special characters?
The naming of the EQ configuration, as shown below, should not contain any space or special characters.

The editable field of the file allows for "Main" and "Alternate" values - What is this?
Once you have activated the Sweet Room in your amplifier, the Main value will be loaded and applied. You can also try an alternative profile with different values. Please use the fields under the tag "alternate" for that purpose.
Adding the word "Remote" into the file will allow you to switch between "Main" and "Alternate" profiles.
Is there any way to see on my Expert Pro if Sweet Room is activated?
If you navigate through the Expert main Menu (Long press on the Tone Button, then short press twice on the same button), you will find the DSPM spec with the "EQ" mention next to it.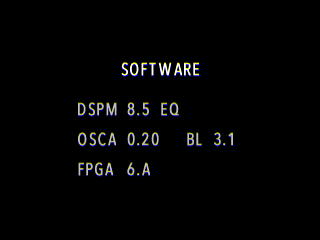 Does Sweet Room apply EQ to my Preout ?
(Thanks Robert for this question) No Sweet room will only apply EQ on main output.
Will an external EQ interact with Sweet Room? in other word Does Sweet Room understand an adjusted signal via an external EQ (such as Roon or Jriver)
(Thanks Bernhard for this question) Expert Pro will consider any digital source as full scale, whatever the signal processing that is behind, and won't automatically adjust it. Sweet Room will apply the EQ whatever the signal recieved by your Expert Pro is
A part of corrections are not considered on my Expert Pro?
We identified that some SAM profil push a limit on the number of band adjustement with Sweet room. We are working to see how it can be fixed and deploy it later on.
In my Dual-mono setup, when I switched to Alternate correction, my Expert pro Companion remains on "Main" adjustement?
This is a bug, Companion is applying correctily the Alternates adjustement, but does not show it on its screen.