What is Devialet Air®?
Devialet Air®, which stands for Asynchronous Intelligent Route, is a technology invented by Devialet. The purpose of this technology is to allow Expert and Expert Pro owners to play their own library tracks. This specific protocol allows you to play with no sound alteration to your Expert pro or Expert product.
1. Where can I download Devialet Air®

Devialet Air® is available from your account under the tab "Expert Configuration". You can access the login page here

Then browse through this section of your profile : you will find every software from Devialet.

Please select Devialet Air® for the type of computer you are looking to use it on (Mac Os or Windows).

When the download is complete, launch the set up for Devialet Air® application and follow the instructions during the setup.
2. How is Devialet Air® working?
To set it up you first need to create your own configuration via our Online configurator which is available here. Your Expert needs to be set up on your network.
Note: We strongly recommend you to log into your profile before creating a new configuration in order to keep this configuration saved into your profile. This will give you the possibility to change it when needed.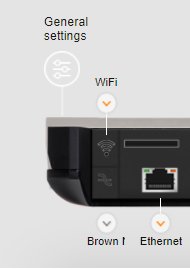 Devialet Air® is a software which will consider your Expert product as an extension of your Computer. That means that your Expert will become the speaker of your computer, then once connected to your Devialet via Devialet Air®, every piece of music you will play into your computer will be played into your Expert. From a driver perspective, Devialet Air® is a sound card with the ability to connected wirelessly and in a wired fashion to your Expert System.
Devialet Air® is only available for computers, there are no tablet version or mobile version.
To configure your Wifi you will need to fill in the below items in your configuration:
Device Name: The name of your device once connected to your network
Name (SSID): your wifi name
Password (Key): the password associated with your Wifi.
Note: Non-pro devices are not able to connect to a 5ghz WiFi, so please make sure that you have a 2.4 Ghz wifi available and set into your configuration. This limitation has been fixed with the Pro version of Expert.
Note: The password for the network through Wifi have two limitations : it's limited to 30 characters and it should not contain any special characters (for example *,/,'é etc...).
Note: Ensure your Wifi router is not set with MAC Address limitation. Your MAC Address is available when your device is connected to the network via Devialet Air® in "Device settings" (in this case you will need to wire your device in Ethernet in order to get it available in the network and get the possibility to find out the MAC Address).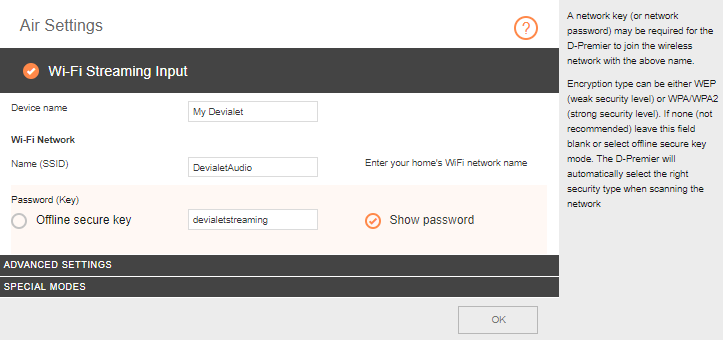 On Ethernet there is no specification required.
We recommend this mode as it is the steadiest channel and will deliver high resolution tracks with no degradation on the signal provided to the Expert device.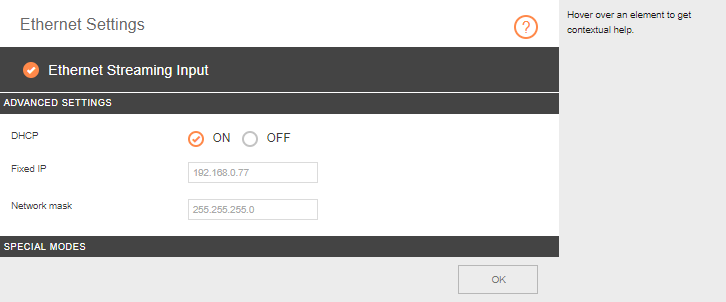 C - Difference between Non-pro and Expert Pro.
With the non-pro version of Expert, if you configure Ethernet and Wifi into your Expert, both options will be available as a source into your Expert.
With the Expert Pro range, we considered these two protocols mainly as channels to deliver sound to your Expert, therefore there is no specific source associated with these protocols.
In any case, Ethernet will always take priority in an Expert pro, which means if you set both options and your Expert is wired via Ethernet, Wifi won't be used. Additionally if you did not configure Ethernet on a Pro Expert, and you wired your device via Ethernet, your Expert will automatically use it as a protocol.
3. All is set, what should I do now?
If you follow all above instructions, you will then have connected your Expert to Devialet Air®.
Now, here are the next steps :
Select the right source on your Amplifier (Ethernet or Wifi) for non-pro devices. To do this, use the "Source" button of your Remote. (Note: for Pro devices is not required as Devialet Air® will automatically switch your amplifier to the right source).
Launch Devialet Air®
Devialet Air® icon will be then set just aside the clock on the taskbar of your Windows or in the top bar of your Mac device
Make a right click on Devialet Air® Icon, to get all options available.
Select your amplifier which will be visible below "Disable Devialet Air®" (in the screenshot below the amplifier name is "My Devialet").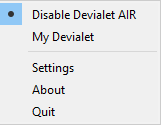 4. What options are available with Devialet Air®?
General Settings:To access Devialet Air® Options/Settings, make a right click on the Devialet Air® Icon (from the tasks bar) and select "Settings"
The only options available from there are :
"Launch Devialet Air® at Startup" : every time your computer is starting, Devialet Air® will be opened.
Target device buffer : this option is there to select the proper buffer size you accept to use before playing into your Expert. To access this option, you will need to click on the Padlock icon. to save it you will then to relock it.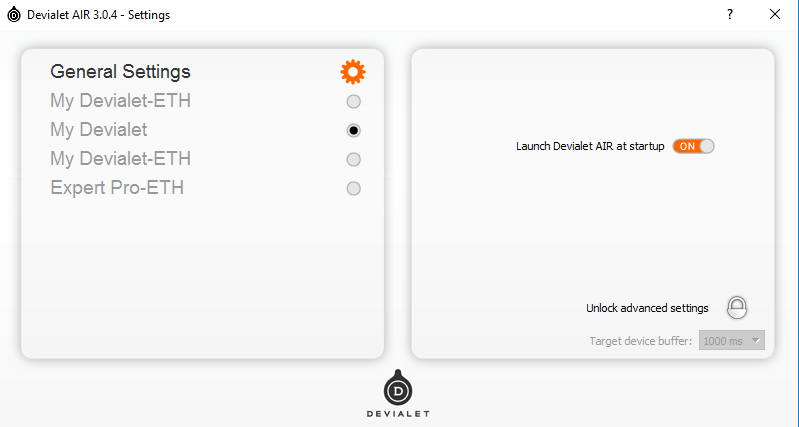 Only option for device setting is to automatically play to your Expert device, once it's visible on the network. 3 different options are available:
Never stream automatically to it.
Stream to it only if not already streaming.
Always stream to it automatically.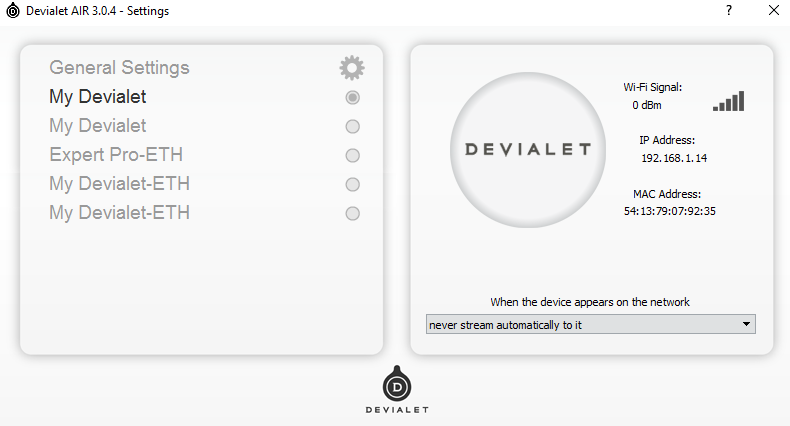 5. Any advice on what player to use?
6. Questions & Answers
Do I need to install Devialet Air® if I play music via USB?
No, Devialet Air® does not require playing through USB. Your computer will install a specific driver for this usage. On Windows the driver is available into the Expert Configuration section of your profile. To set it up, you need to wire your computer to your Expert.
Recommendation: Please use a genuine High Speed 480Mbps USB 2.0 cable, no longer than 2m (6.5').
Recommendation: Preferable installation will avoid setting a repeater or a USB hub between your computer and your Expert. Only use the USB ports directly connected to the computer's motherboard.
When I launch Devialet Air®, I have an error message saying "Sound Card Driver could not be loaded".





Devialet Air® 3.0.4 can generate a specific error message when launching it on a Windows PC. The error message is "The Air Virtual Sound card Driver could not be loaded". In order to allow Devialet Air® to be launched properly, we suggest you disable the secure boot on your BIOS.

You can find the steps to follow into the manufacturer of your PC website, otherwise, you can follow steps into the Microsoft Website

Same error can happen on a MacOS. To fix this error message here are the steps to do:

Go into System Preferences
Select Security & Privacy
In the options you will find the following mentions "System software from developer "Devialet SAS" was blocked from loading" Click on the Allow button.
If this button has disappeared (which is the case about 1 hours after the Devialet Air® Installation), hold the Control button of your keyboard, and click on the Devialet Icon
Select the option "Open". The error message will appear again.
Return to Security & Privacy, the "Allow" button will re-appear.
How Can I play tracks from my NAS to Devialet Air®?




Aside options available with Core Infinity such as UPnP, Devialet Air® can be use in your specific setup. For this, you will need to use a player which is able to find and play tracks from your NAS server to your computer (some references in the section 5 of this article could be the perfect match here). Devialet Air® is transmitting the signal to your Expert as it is with no up or downsampling - the core audio of your computer is bypassed in this type of setup.
I've been told that Roon onboarded Devialet Air® - what does it mean?
Our partner Roon worked to get Devialet Air® directly inside Roon, which is allowing you to directly stream to your Expert (when available on the network).
As a customer, it also means that you don't have to setup Devialet Air® if you want to play with Roon into your Expert, you will only have to setup the Devialet Air® option in Roon (options are available into "Settings"/"Audio" menu - all DSP options are also available from there).
What are Devialet's recommandations when it comes to network setup for Air®?
Devialet Air®'s ability to stream properly is mainly linked to two specific factor:
Strength of your network
Your computer Core usage while streaming.
When it comes to the network, the steadiest way to deliver a good signal to your Expert will be to wire your amplifier to your main or satellite router via Ethernet. Quality will also depend on the available bandwidth during your streaming time.
Wifi is also a good option, but generally domestic wifi is getting a lot of interference from all home devices that might use the wifi connection. However you can still set a separate network for your streaming session via an additional router which will generate its own SSID only used for your Expert Streaming. To get help for setting up this type of dedicated network, you can consult our Customer Care.
Regarding using your computer while streaming, we recommend keeping it at a minimum running process on the source device (Computer) and keep the Player as the only software running. A lot of our customers are using a dedicated computer for the Streaming, in order to avoid sound quality while streaming.
What are the minimum requirements for setting up Devialet Air®?
Devialet Air® 3.xx requires :
Yosemite MacOS or Above
Windows 7.0 or Above
Below this OS version on your computer, Devialet Air® is not supported.
Can I play DSD with Devialet Air®?
DSD stands for Direct Stream Digital is a specific format of digital tracks - More details here
To play DSD files, we recommend you use the USB feature of your Expert product. In view of the size of content on a DSD format, Devialet Air® won't be able to run a smooth carrying of all information in a DSD.
Can Devialet Air® be used with the more recent versions of MacOS ?
We released a version of Devialet Air® that can be used with Catalina, Big Sur and Monterey. It is available for download on your account, under the "Expert Configuration" section. Any other more recent version of MacOS is currently not supported.
How to uninstall Devialet Air®
On Windows : In the directory where Devialet Air® is installed, launch 'unins000.exe'. This will uninstall the software.
On MacOS : In the "App" menu, find the Devialet Air® icon. Drag it to the bin in the Mac taskbar to uninstall the software.