1. What is Expert or Expert Pro?

Expert is our amplifier product range, onboarding all disruptive technology we have invented such as ADH®, SAM®, AIR®, RAM® etc...

Our Expert range is composed by the below product:

Expert 140 Pro
Expert 220 Pro
Expert 250 Pro

By chaining two device, you can extend the product capability (divided distortion by 2, double the connectivity for example):

Chaining possibilities are the following:

Chaining 2x140 will transformed your system into a 210 Pro
Chaining 2x 220 Pro will transformed your system into a Expert 440 Pro
Chaining 2x 250 Pro will transformed your system into a Expert 1000 Pro

Our prior range version was the following:

Le 120
Le 200
Le 400 (2x 200)
Le 800 (2x 250)

We also have a limited edition product named Orignial D'atelier (ODA) which was about 900 watts (can be upgraded to the Pro hardware and push it's capability to a 1000 Pro).

Aside this product, there are also product named D-Premier which is the first product we release
2. What are the differences between Expert and Expert Pro?
Expert Pro is the last range on Expert, composed by our Version 6 of the Expert Hardware component. Expert Pro is also onboarding a brand new board - the Core Infinity. This board is a streaming board which is improving our existing capability such as wifi connection or Air®, but will also give us the possibility to add the current streaming mode as new possibilities to enjoy music (such as UPnP, Airplay® Roon Raat or Spotify Connect®)
The Expert range (non-pro) have of course capacity to stream via our technology Devialet Air®
3. What is Core Infinity
Core Infinity is a Devialet Board built to fit current and futur usages with dematerialized music. Once your Expert product will be configurate into your network, a lot of new possibility will be offered to you with your music. Only the Pro device have the physical capability to welcome this board. To see if you device is a Pro product, please use the remote "tone" button (long press) in order to access the Information Menu and localized the HW (which stand for hardware version) information:
HW 6.0 (Pro product with no Core Infinity)
HW 6.2 (Pro product with Core Infinity)
Hardware version below this version are not Pro product. If you are looking to upgrade your Expert, please consult your profil here, ensure your Product Serial number is properly register and regulary check if the option of upgrading your device is available (as Upgrade program is regularly proposed).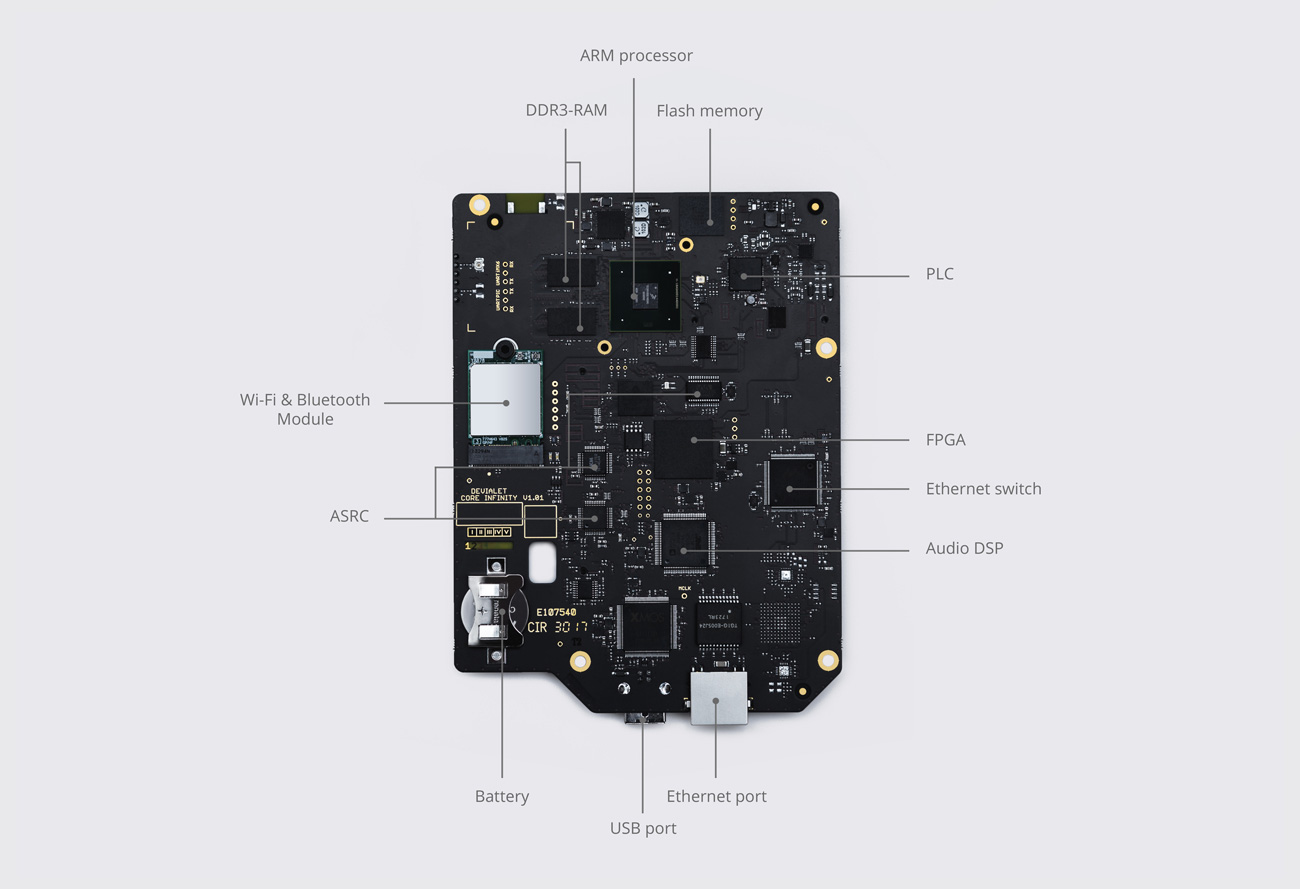 4. Where to start
A - Plug all your material
First step you need to do, is to wire your system with all material you need to connect (CD Player, TV, Turntable, etc...)
B - Update your firmware
Once you made it, to ensure your device is up to date, we recommend you to make the firmware update of your device(s).
Log into your Web account here
Go into the page "Expert Configuration" on the first section of this page you will be able to download the apropriate firmware

For Expert Pro last firmware available is the 13.0.0
For Expert (non-pro) last firmware available is the 10.1.0
If you like to check the current version on your device, you can use the tone button of your remote with long press to access the Advanced menu - the software version is just aside the SW (which stands for Software Version) mention in the Expert screen.

Download the right version of firmware
Insert your SD Card into your computer and format it properly (if you do not have a SD Card reader, please consult external reader product available here)
Put all firmware files into the root of your SD Card
Unplug the electrical cable
Insert it into your Expert and
Replug the electrical cable.
Firmware update will start from there
Note: if with the above steps you can not update your firmware for any reasons, please consult the following article Firmware Update Q&A
C - Customize your configuration file
One important aspect of your Expert system, is that you can fully configurate it such as naming source, pre-load your speaker profil, etc...For a basic configuration, please have a look at the following article Simple Configuration
For a more complete configuration, look at all options available into the Configurateur here. When the configuration is complete, download it and paste it into your SD Card. the configuration file should be named dp_cfg.txt if this is not the case your Expert won't be able to read it (on the screen will dispaly "factory config" when booting.
D - Just now enjoy the music!