How to start with Expert or Expert Pro?
1. What is Expert or Expert Pro?

Expert is our amplifier product range, onboarding all disruptive technology we have invented such as ADH®, SAM®, AIR®, RAM® etc...

Our Expert range is composed by the below product:

Expert 140 Pro
Expert 220 Pro
Expert 250 Pro

By chaining two devices, you can extend the product capability (distortion divided by 2, double the connectivity for example):

Chaining possibilities are the following:

Chaining 2x140 will transform your system into a 210 Pro
Chaining 2x 220 Pro will transform your system into a Expert 440 Pro
Chaining 2x 250 Pro will transform your system into a Expert 1000 Pro

Our prior range version was the following:

Le 120
Le 200
Le 400 (2x 200)
Le 800 (2x 250)

We also have a limited edition product named Orignial D'atelier (ODA) which was about 900 watts (can be upgraded to the Pro hardware and push it's capability to a 1000 Pro).

Aside this product, there is also a product named D-Premier which is the first product we released.
2. What are the differences between Expert and Expert Pro?
Expert Pro is the last range on Expert, with Version 6 of the Expert Hardware component. Expert Pro is also onboarding a brand new board - the Core Infinity. This board is a streaming board which is improving our existing capability such as wifi connection or Air®, but will also give us the possibility to add the current streaming mode as new possibilities to enjoy music (such as UPnP, Airplay® Roon Raat or Spotify Connect®)
The Expert range (non-pro) have of course capacity to stream via our technology Devialet Air®
3. What is Core Infinity
Core Infinity is a Devialet Board built to fit current and futur usages with dematerialized music. Once your Expert product will be configurate into your network, a lot of new possibility will be offered to you with your music. Only the Pro devices have the physical capability to welcome this board. To see if your device is a Pro product, please use the remote "tone" button (long press) in order to access the Information Menu and localized the HW (which stand for hardware version) information:
HW 6.0 (Pro product with no Core Infinity)
HW 6.2 (Pro product with Core Infinity)
Hardware version below this version are not associated with Pro products. If you are looking to upgrade your Expert, please consult your profil here, ensure your Product Serial number is properly register and regulary check if the option of upgrading your device is available.

4. Where to start
A - Plug in all your material
First step you need to do, is to wire your system with all material you need to connect (CD Player, TV, Turntable, etc...)
B - Update your firmware
Once you made it, to ensure your device is up to date, we recommend you to make the firmware update of your device(s).
Log into your Web account here
Go into the page "Expert Configuration" on the first section of this page you will be able to download the apropriate firmware

For Expert Pro last firmware available is the 13.0.0
For Expert (non-pro) last firmware available is the 10.1.0
If you'd like to check the current version on your device, you can use the tone button of your remote with long press to access the Advanced menu - the software version is just aside the SW (which stands for Software Version) mention in the Expert screen.

Download the right version of firmware
Insert your SD Card into your computer and format it properly (if you do not have a SD Card reader, please consult external reader product available here)
Put all firmware files into the root of your SD Card
Unplug the electrical cable
Insert it into your Expert and
Replug the electrical cable.
Firmware update will start from there
Note: if with the above steps you can not update your firmware for any reasons, please consult the following article Firmware Update Q&A
C - Customize your configuration file
One important aspect of your Expert system, is that you can fully configurate it such as naming sources, pre-load your speaker profile, etc...For a basic configuration, please have a look at the following article Simple Configuration
For a more complete configuration, look at all options available into the Configurateur here. When the configuration is complete, download it and paste it into your SD Card. the configuration file should be named dp_cfg.txt. If this is not the case, your Expert won't be able to read it (on the screen will dispaly "factory config" when booting.
D -Enjoy the music!
5. Q&A
My companion or my master is very hot - is this normal?
The heat dissipation is solely done by convection (there is no ventilation in the Devialet), we advise not to have the unit in a cabinet or in a place with poor air circulation.
You can check the Devialet's temperature by pressing 2s on the remote tone button and going to screen 14th ont the Devialet's information screen. You can navigate the screens by shortly pressing on the tone button. Temperatures going up to 65°C are absolutely OK.
Additionally for DUAL-Mono setup, we highly recommend you to set device side by side rather than one on top of the other one.
My remote is not longer paired to my Expert Pro - how can I pair my Remote?
If you need to pair your remote on your amplifier, here are the steps to follow:
Switch on your amplifier
Put the Remote on the casing on the Devialet writing on the top of the casing
Turn the wheel of the remote till you see the volume on the Expert screen changing the volume.
These steps are the same for pairing a Remote to a Dpremier, and Expert or an Expert Pro
How to clean my Expert?
Both the amplifier's body and the remote control is made of hand-polished solid aluminium with a layer of copper and nickel. The delicate surface is sensitive to finger acidity and grease. We recommend that you regularly clean the surface with the supplied cloth. If marks or stains are persistent, you may want to use a soft cloth moistened with alcohol or a window cleaning product.
What is the factory mode on Expert and how to activate it?
The factory mode is the mode where no set of parameters are activated. It's exactly the same mode as when the product leaves the factory.
We usually use this mode to identify trouble on Expert, and see if a particular parameter is generating the issue you may face.
For example:
If the Expert is generating the same issue with parameter load (with a configuration) and without (in factory mode), it means potentially either:
A Device plugges in the Expert is generating the issue (CD player, Speaker, etc...)
A part of your expert is not working properly.
On the other hand, if the factory is not generating the issue as when parameter is load, it means that there is a feature which is not properly configurated on your configuration file (eg. SAM), therefore the next step our team may ask you will be about redo the configuration of your Expert via the Configurator
To return your Expert on factory mode, please follow the below instructions:
Switch off your Expert.
Remove SD card of your Expert (on both units if this is a Dual mono device)
Switch on your Expert
You are then on factory mode.
To leave the factory mode, please follow the below instructions:
Switch off your Expert.
Put on the SD card reader SD card of your Expert (on both units if this is a Dual mono device)
Switch on your Expert
You are then on a configurated mode.
This might be a test to run before reaching out our customer service team in order to get some more insight on where the issue might be located.
Can I adjust the balance and tone on my Expert? How can I make this adjustement?
Devialet amplifiers offers Tone and Balance adjustment possibilities.
To access and exit these controls
do a long press (2s) on the "Bass" on a D-Premier or the Mute key on a Devialet 250, 250 Pro, 200, 220 Pro, 120 or 140 Pro.
Navigate through this menu with short presses.
The tone control is unique in the sense that you can define the exact bass or treble frequencies where you want the correction to operate. This can be defined in the "control settings" section on the online configuration tool. Note that by default, the frequencies are set to 100Hz and 2kHz.
The balance control lets you correct problems due to unusual geometry of the listening room. By default, the unit will automatically switch to mono as soon as you attempt to adjust the balance on the remote control. This is helpful in case the musical content is different on the left and right channels when adjusting the balance. You can also configure your unit to stay in Stereo during balance adjustments. This has to be defined in the "control settings" section on the online configuration tool.
Note that both balance and tone adjustments are automatically memorized as soon as you leave the menu item.
What is the power supply requiered for Expert, DPremier or Expert Pro?
All Devialet are equipped with a universal power supply with auto calibration which accepts any Mains voltage from 90 to 240V - 50/60Hz. Insert the cable provided in the package in the socket M and plug the other end into the outlet. Press the On/Off button on the front of the Devialet or on the remote control to switch the amplifier on.
Note that an grounded outlet is mandatory.
Devialet 120, 200 & 400 / 130 Pro, 220 Pro & 440 Pro
Devialet 250 & 800 / 250 Pro & 1000 Pro
Where can I find the last fault to report it back to your customer service?
The last fault on your Expert is a very helpful information to identify where an issue might be on the device.
In order to get this last fault, you will need to go into the Advanced Menu of your Expert or Expert Pro:
Make a long press on the tone button of your Remote
First information that appears in this screen are the main information (serial number/Hardware version/Software version etc...)
To move into this menu, you will need to make a short press on the tone button again, until your screen view a "Last fault" menu.
This information will disappear if you are doing a reboot of your amplifier (by unplugging and replugging the product).
What is the information Menu - how can I access to it?
An advanced information-menu is available to service your Devialet. It contains detailed data about your product:
Screens 1-5: Serial numbers, firmware, software and hardware versions
Screens 6-7: Wi-Fi status and related information
Screens 8-10: Device configuration
Screen 11: Temperatures in the set
Screen 12: Last fault found
The Last Fault found screen is important to report, should your device stop during operation (i.e. enters protection mode) or show unusual behaviour. Note that this information is stored for 3 days in memory, unless Devialet is reset by disconnecting it from the mains.
To access and exit this menu, make a long press (>2s) on the Phase Invert (D-Premier, Devialet 250) or the Tone key (Devialet 200, 120) of the remote control. You can navigate through the various screens by doing a short press on the same key. You can also exit this menu by making a short press on the remote control's On/Off button.
Expert or Expert pro as a preamp
For this type of setup we recommend to use the preout connector to feed another amplifier or an active speakers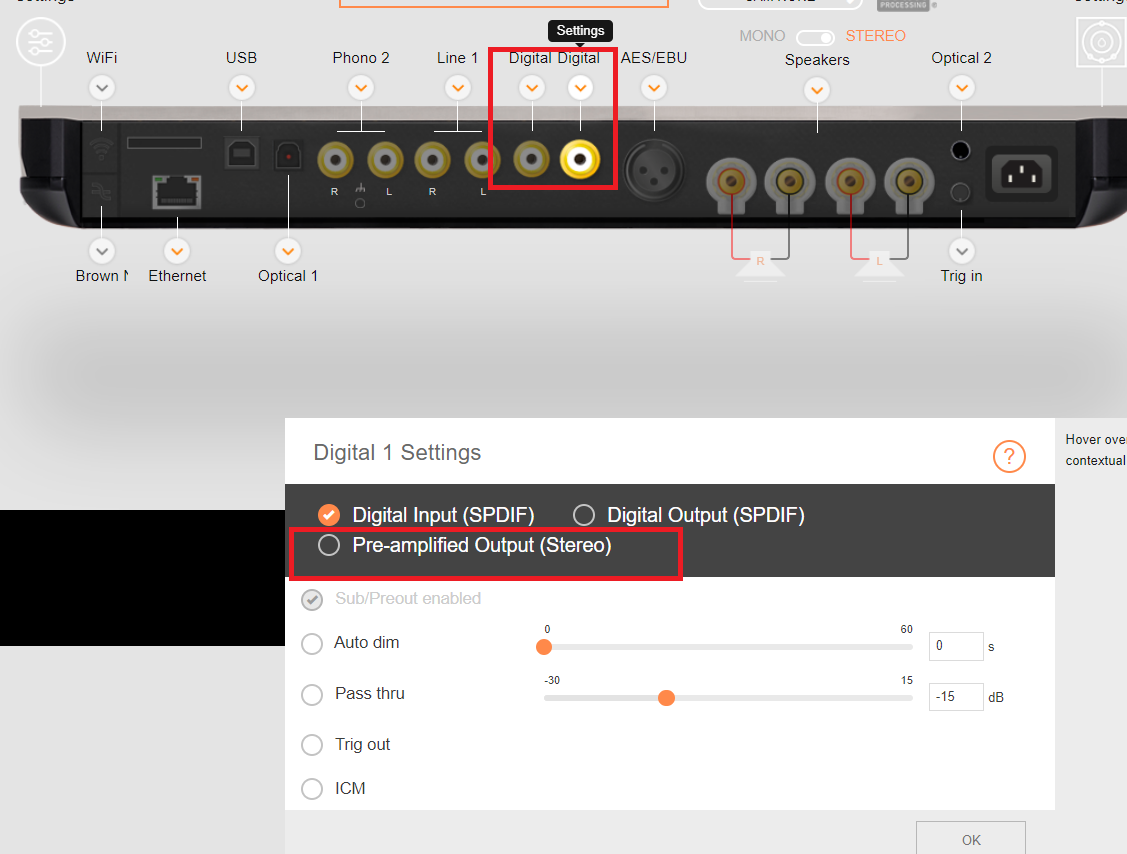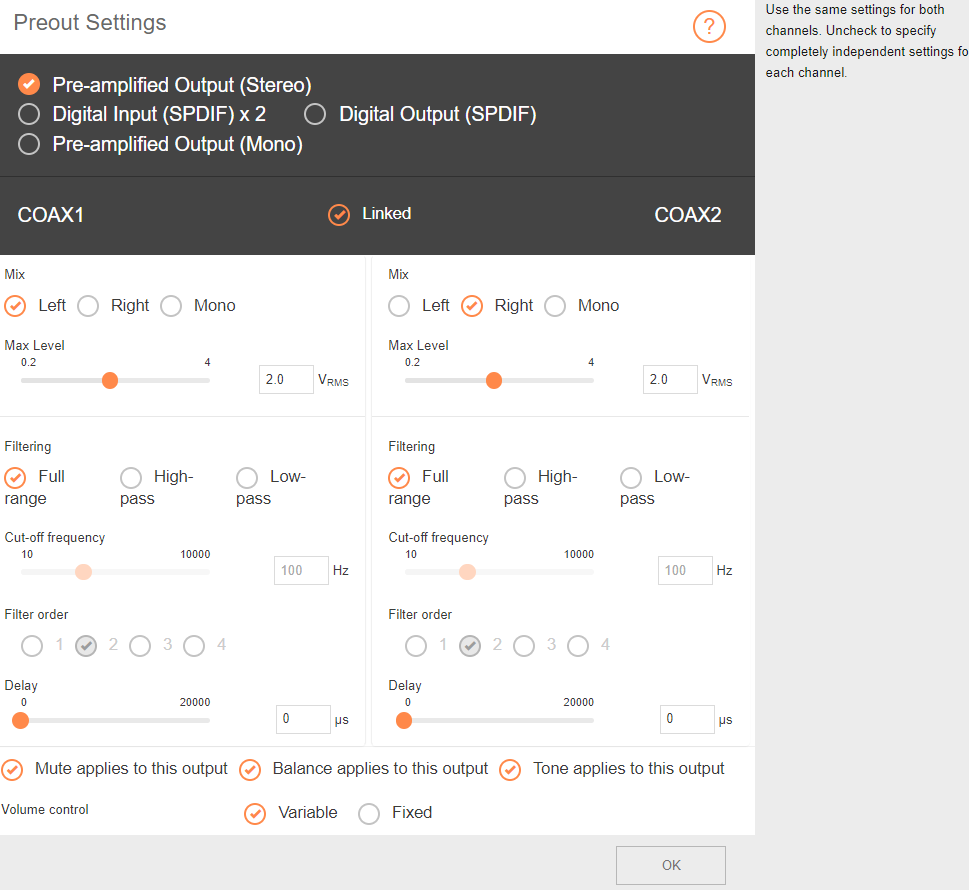 What's my Expert Warranty ?
For any Expert Purchase made after June 21st 2023, the applicable warranty period is two years. Prior to this date, the warranty coverage of any Expert product lasted 5 years.
For any Expert Upgrade Purchase made after June 21st 2023, the applicable warranty on the upgraded device period is two years. Prior to this date, the warranty coverage of any upgraded Expert lasted 5 years.
If you go through a repair for your Expert, you will get a one-year warranty.
Please consult the terms and conditions here.
How to connect my speakers to Expert or Expert Pro
To access the connections, remove the protective cover by sliding it horizontally, then connect your speakers, matching cables to their corresponding sockets (J and K) and observing the correct polarity. For optimal performance, the speakers should be placed at an equal distance from the listener.
For 120/130 Pro/140 Pro/ 200 and 220 Pro
For 250 / 250 Pro